Alaska Summer 2014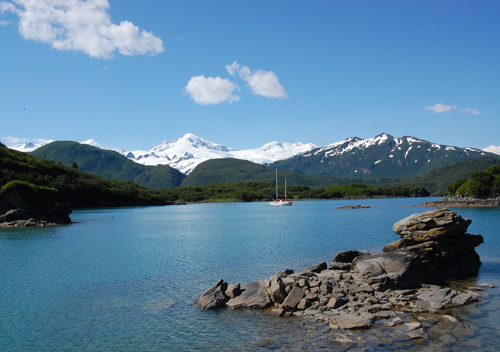 Our Alaska cruising season now officially starts in March. This is the third year that Mark has arrived in Cordova in March to do a late winter, early spring cruise in Prince William Sound on his own.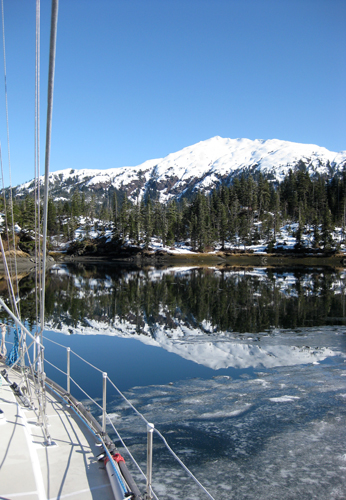 During Mark's late winter cruise, the contrast to his first March cruise two years ago was striking. In 2012 Prince William Sound had experienced record snowfall. Snow lay heavy not only in the high mountains, but all the way down to the high tide line. This season, very little snow cover - by comparison at least, as snowfall is a hallmark of the sound - presaged what would prove to be a summer season in which water was in short supply in Cordova and require the town to impose use restrictions.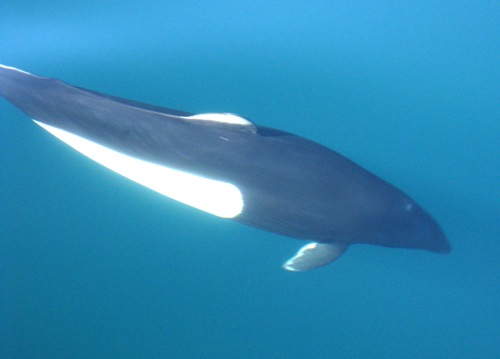 Less snowfall, occasioned by high barometric pressure and clear skies, was accompanied by colder temperatures every night, freezing over the anchorages almost daily. Of course the same clear skies brought warming sunshine each day that softened the ice in the afternoon, permitting rowing and shore excursions before the nightly cold froze everything over once again.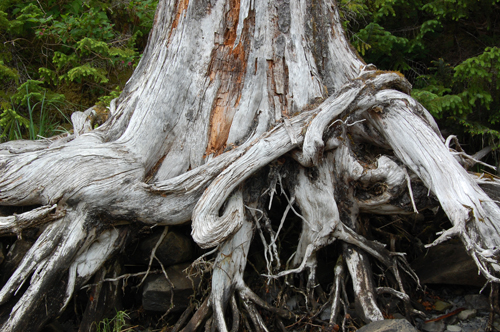 Meanwhile in April, Nancy was completing another section of the Pacific Crest Trail in Southern California (
click here for link
). She arrived in Cordova on May 16th, and just 4 days later s/y Tamara left the dock for another voyage out west. The rough plan was to spent time on the Kenai Peninsula, then cross the Gulf of Alaska to Afognak Island in the Kodiak archipelago, through the passage known as Current Straits to Shuyak Island State Park, cross Shelikolf Straits to Kukak Bay, in Katmai National Park on the spectacular Alaska Peninsula, then make our way back to Prince William Sound. The challenge each year is to find new destinations and anchorages that we have not visited previously. Our two main goals this summer were Shuyak Island and Kukak on the Alaska Peninsula. But there are still many anchorages in Prince William Sound that haven't been explored. Even after all of the years in the sound, whether in the fishery or cruising, there are many places for us still to visit.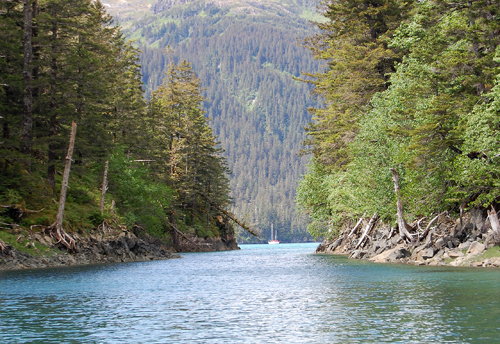 Most of Alaska had experienced a very dry winter this season, and where in previous Mays the snowline was just off the shore, this spring the snowline was above 1,000 ft. Normally the ground would be very wet and squishy and all the small ponds overflowing, but this year the ground was very dry and many small ponds already shrinking. As a consequence wildfires were already raging on the Kenai Peninsula.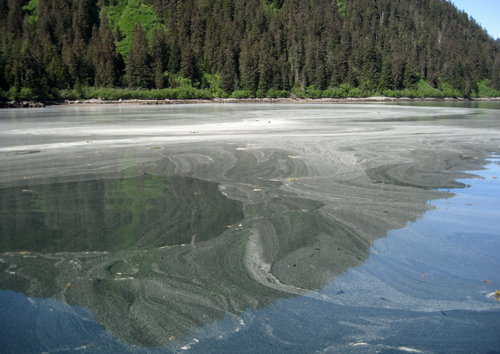 Another result of the mild winter was the abundance of pollen from the Sitka spruce which coated the anchorages, leaving bathtub rings along the shoreline. This is the northern edge of the Pacific Northwest Rain forest, and after a mild winter the trees exploded in the spring with pollen and their limbs heavily laden with cones. Several times dust devil whirlwinds of pollen streaked through the trees.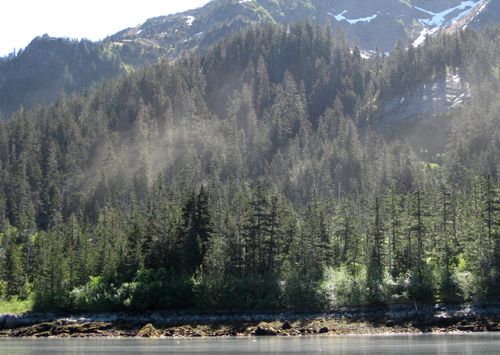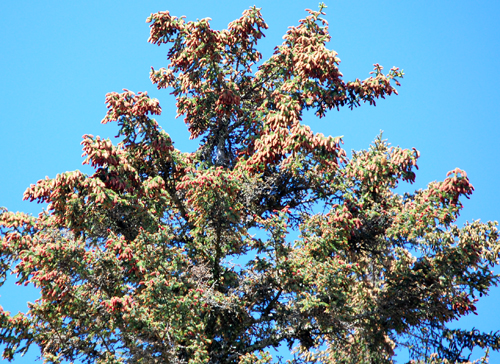 We usually don't meet many boats, especially foreign, in May, but in Sheep Bay, our first anchorage, were Claudia and Jurjen from Austria on their boat s/v La Belle Epoque. They had come through the NW Passage last summer and wintered in Kachemak Bay, then Cordova. They had been in Prince William Sound for a month and were getting ready to begin the passage south through Southeast Alaska's Inside Passage. While in the Tonsina Bay anchorage in Nuka Bay on the Kenai Peninsula we met Riitta & Pekka from Finland on s/v Sarema. It was the first boat we have met to have transited both the North West and North East Passages. The NE Passage, as expected, was more difficult than the NW Passage due to it's length and short season to complete the passage. In both cases the race to get through make either passage more a marathon than a voyage. We had met Kate, Hamish, and their daughters Helen and Anna on s/y Seal, US flagged, in Mar del Plata, Argentina, then later in Ushuasia and Puerto Williams, Chile. They were operating a charter service in South Georgia and Antarctica, but recently moved to Alaska, with a new home base in Cordova. Mark has been recommending anchorages we've enjoyed on the Alaska Peninsula and Shumigan Islands, as well as Prince William Sound. So it wasn't surprising that we encountered them on the Kenai Peninsula, Afognak and Kodiak this season.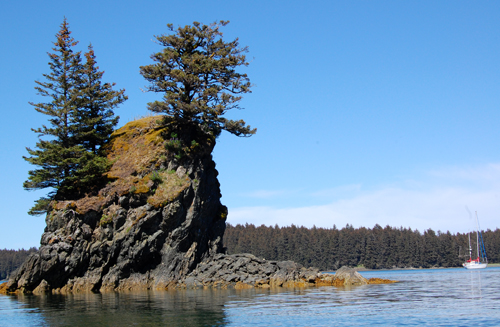 Shuyak Island State Park was an area of the Kodiak archipelago that we had not yet explored, hence high on this season's list. It encompasses the northeastern most end of the Kodiak Island group and, unlike the rest of Kodiak, has a low profile, 508 ft being the highest point. The Park has four public use cabins, approximately 12 miles of trails and as is the case in most of Alaska, is only accessed by boat or float plane. We encountered two French boats who had arrived recently from Hawaii, slowly making their way to Puget Sound. It's a very tranquil setting but a little too tame for our tastes.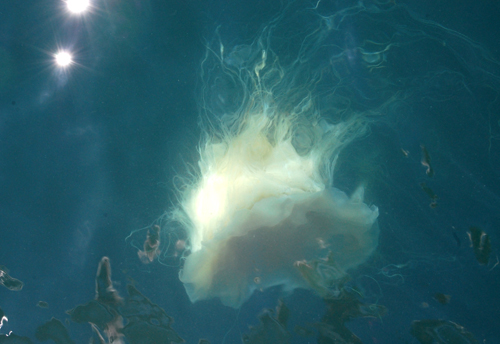 While waiting for suitable weather to cross over to the Alaska Peninsula we spent a few days in Blue Fox Bay, on the NE end of Afognak Island, part of the Kodiak National Wildlife Refuge. To our surprise s/y Seal arrived and we enjoyed a couple of sunny days exploring the area again in the company of friends.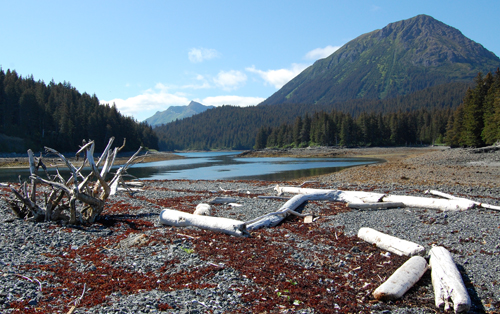 The main destination of this season's voyage was Kukak Bay within Katmai National Park on the Alaska Peninsula. Unlike the very popular Geographic Harbor, 30 miles southwest along the peninsula, Kukak Bay offers great views of the volcanic mountains of the Aleutian Range and more options for anchoring. One of it's main attractions is close-in access to Brown Bears and Nancy was determined to get some photos. Katmai Wilderness Lodge is located at the mouth of the Bay and every day their small boats do a full circumnavigation of the Bay looking for bears and other wildlife.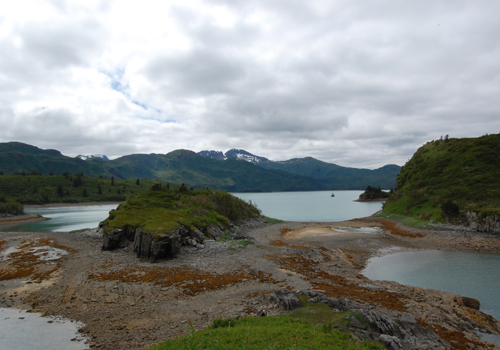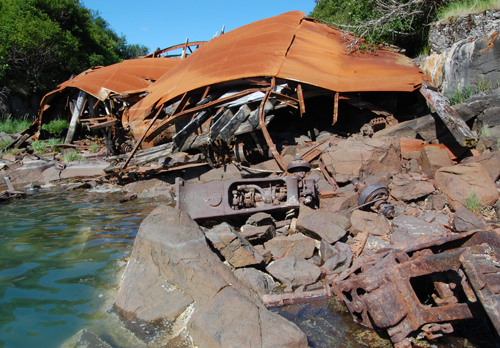 There are two very large river deltas emptying into the head of the bay, but for us they are too far from the anchorage for us transit in our small dinghy. Instead we spent time by an old cannery site and inside a small lagoon, deep enough for us to get inside. Dinghy exploration was easier and on several occasions we came upon bears very close but safe enough to get some photos. And it didn't hurt that we had great weather the whole time we were there.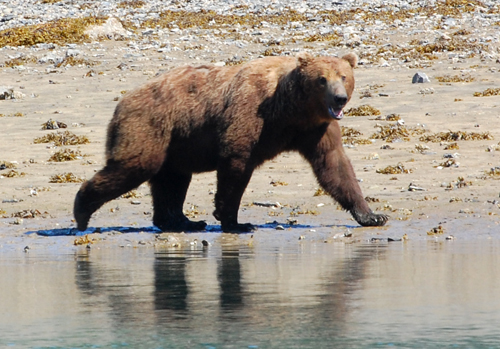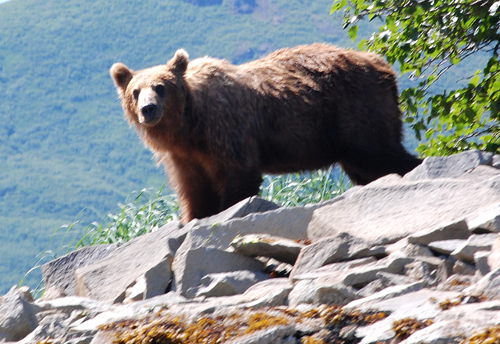 Following our years spent cruising distant high-latitude grounds, numerous cruisers whom we have met or others that they refer contact us with requests for information about the coastal regions of Alaska beyond that covered in the few cruising guides. Mark had been in email contact this winter with two cruising boats coming to Alaska for the first time requesting information on anchorages, availability of fuel, general cruising information, etc. It worked out that while we were in Kodiak refueling and re-supply that both boats came into the harbor. Pete and Raewyn, Kiwis, onboard s/y Saliander took every anchorage suggestion Mark recommended and then some. Their approach is to leave no stone unturned and have some great stories to tell of their adventures. So many cruising boats, due to time restraints and distances involved, miss a lot of what Alaska has to offer - but not Saliander. John, on s/y Active Transport, shares with Mark, an interest in local maritime history.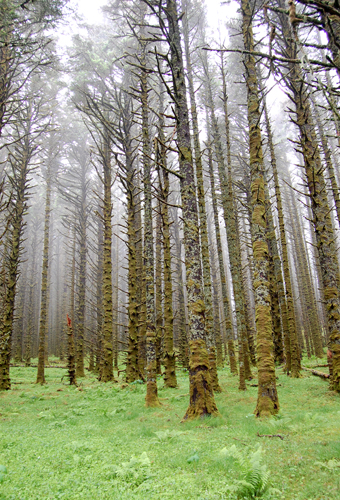 Prior to making the Gulf crossing back into Prince William Sound we spent a few days on Long Island, near Kodiak city, where we once again met up with Seal. Nancy needed to get in some walking in an attempt to get ready for her upcoming hike, and Long Island offers lots of trails and no threat of bears.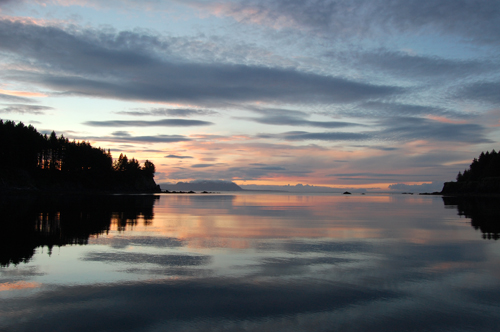 Two weeks were spent cruising in Prince William Sound revisiting tried and true anchorages and exploring a few new ones. The weather overall was cooperative enabling us to get in some hiking and kayaking before returning to Cordova. Back in town and Nancy's focus is on her upcoming Sierra hike, 240 miles, her most challenging section. She leaves on August 5th. Good Luck!
Labels: Afognak, Alaska Peninsula, Kukak, Long Island, Shuyak