Cruising Season 2018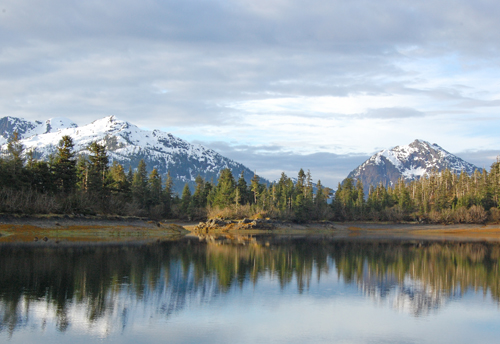 Mark left the 29th of February for his yearly drive north from Port Townsend to Valdez and the ferry to Cordova. The drive to Valdez normally takes him 5 days of winter driving, something he relishes. This year presented added challenges. Winter driving indeed it was. Hard-pack snow and ice covered the roads from Bellingham, WA all of the way to Valdez, more than 2,000 miles. For our Subaru, equipped with excellent winter tires, and Mark's years of experience driving in such conditions, as well as several seasons racing, this posed little problem except that posed by less experienced or less prudent drivers.

This latter problem was finally exemplified about half way between the Canadian border and Tok, AK when a jacked up pick-up sporting gigantic doughnut tires, and a snowmobile in the bed, flew passed even though the Subaru was already up to considerable sped for the conditions. A few minutes later, around a sweeping turn, there was the pick-up upside down well off the road, down a steep embankment.

Air temperature at the time was about minus 20 degrees, and blood was streaming from the semi-conscious driver's head who was simply balled up in a jumble in the inverted truck. It was much too far for medical assistance from Tok, even if it were possible to telephone for help, which it was not.

A minute later, a small RV driven by an Air Force officer on his way with his wife to his new assignment in Fairbanks stopped to assist. Mark shouted up the bank for them to bring down whatever bath towels they had, as well as a silver tarp in the Subaru.

Working together they stemmed the profuse bleeding, rolled up a large towel, fashioned it into a make-shift cervical collar, then carefully extracted the driver. Placing him on the folded up tarp, the three together were able to toboggan the injured driver up the embankment, then, with difficulty, get him into the RV. A considerable time later they turned their patient over to the Tok medical clinic.

Later reports indicated that he recovered well. The three rescuers were gratified that they had all received advanced first-aid training over the years. At first a critical cop in Tok criticized them for moving the injured driver, but quickly backed down when the Major forcefully, as though dressing down an airman first class, reminded him of the temperature, the distance and the communications.


Mark has now spent the last 6 winters during the month of March on a solo cruise in Prince William Sound looking for snow. This winter's cruise provided plenty. Western Prince William Sound had enjoyed a fine winter, and snow covered the ground right down to the high tide line. At first the well settled and firmed-up snow permitted easy walking anywhere without skis or snowshoes. Then a foot of new snow required assistance ashore. But beautiful clear weather, except for the day-long snowstorm, made for a superb late-winter cruise, with plenty of time for rowing, hiking, and watching the return of the first migratory waterfowl.


Nancy arrived in Cordodva the 1st of May and within a few days we were off for a summer aboard Tamara in Prince William Sound. In an endeavor to add a new destination to our cruise we had decided to head for the western Kenai Peninsula, with a possible excursion up into Cook Inlet. Our challenge would be to coordinate the very large tides in Cook Inlet with non-opposing winds for easy going.

As we rounded Gore Point we noted a sizable heard of mountain goats, both along the ridge at the top, as well as down to the rugged shore. These very elusive creatures are often very difficult to spot, and usually not in such numbers together. This was our reward for working our way to the rugged bay known as Port Dick. Securing Tamara with lines ashore in an inner bight in Sunday Harbor, we were able to enjoy several days while a strong easterly wind made further progress impracticable.


Once we determined to turn back for the sound, a familiar topic was discussed, "Where to now?" On our many trips west to Kodiak, the Alaska Peninsula, even the Bering Sea, we had avoided Seward on the Kenai Peninsula. This seemed like a good time to give it a look.

On March 27, 1964 at 5:36 p.m. Seward, like Valdez, experienced a tsunami as a consequence of the powerful Good Friday Earthquake. Both lie at the head of a long fjord, the perfect spot for a tsunami to do major damage. Being March there was snow on the ground and it was dark. The population at the time was around 200 of which 12 were killed by the tsunami.


Seward today is host to large cruise ships, is the southern terminus to the Alaska Railroad, and hosts the grueling Mount Marathon race every July 4th. As has become the norm in most Alaskan towns that can be driven to, it is a popular spot for RVs in the summer months. A favorite activity for visitors is a walk along the waterfront trail, created on land where fish processing plants, warehouses, and small boat harbors were destroyed by the tsunami.

From Seward we continued back into Prince William Sound for the remainder of the summer season, visiting familiar anchorages and trying ones that we have seen but not visited.




One highlight of the summer was the siting of more black bears than in the past. On one hike we were seconds from running directly into a mother and 3 cubs! Friends in Cordova also mentioned spotting many more bears than in past seasons, and several had made their way into town. One had even entered the harbor and climbed aboard the 86' fishing boat Tamar.

Mark theorized that the excellent salmon returns and fine summers for berries the past few years had resulted in high cub survival, and later in town a friend whose career in academia had specialized in ecological studies pointed out that the excellent winter with abundant snowfall and absence of an early wet spring thaw had provided excellent den conditions.


When one has the opportunity to spend several months observing, it is fascinating how the interactions of climate, weather and interconnected ecosystems can function when permitted to do so free of man's unsolicited interventions.

Come the first of August it was time for Nancy to once again leave to continue her hike of the Pacific Crest Trail. Her goal this summer was to complete the 3 non-consecutive sections of Northern California she has not yet completed. But 2 days before her departure she had to cancel all her plans due to the fires and extreme smoke north of Sacramento and come up with another section to hike. She was able to hike 200 miles in the Cascade Mountain of Washington and in late September complete another 150 miles north of Donner Pass. She hopes to complete her last 377 miles next August!


On September 13th Nancy flew back up to Alaska to join Mark on the drive south back to Port Townsend. Our route was determined by the desire to check out a river in the NE corner of British Columbia for a possible future canoe trip.

We first headed to Chicken, then the Top of the World Highway to Dawson City, a route we took in 2014. From Dawson we drove to Carmack and headed south on Yukon Highway 4, merging into the Alaska Highway at Watson Lake. Mark had not driven the Alaska Highway east of Watson Lake since his first drive to Alaska in 1975, so in a sense it was new territory for both of us.


From Fort Nelson we drove north to Fort Liard, Northwest Territories, a native village where, if we did a canoe trip, we would take out. Along the way we were surprised to encounter Wood Buffalo grazing and lounging along the highway shoulders. We returned to Fort Nelson and continued on the Alaska Highway to Fort St John, then headed SW for home.

Since the fires in Northern California had been contained and the smoke had cleared we decided to make a brief stop in Port Townsend then head for Donner Pass, CA so Nancy could get on the PCT to complete another 150 miles of trail, making this year's total 350 miles. Mark camped at various sites close to the trail in order to serve as her support crew along the way.


And on that note we hope that this finds you all enjoying life and new adventures near and far.