Return Along Alaska Peninsula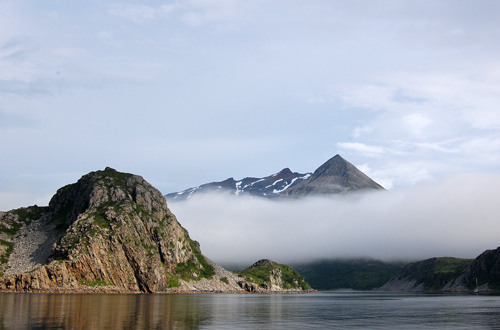 The Outer Shumigan Islands had intrigued us each time we looked at a chart of the area. Unlike Nagai Island, the Konuiji Islands are rarely visited by local fishermen or yachts transiting the Alaska Peninsula. Since we now had extra time we could wait for fair weather and explore the area.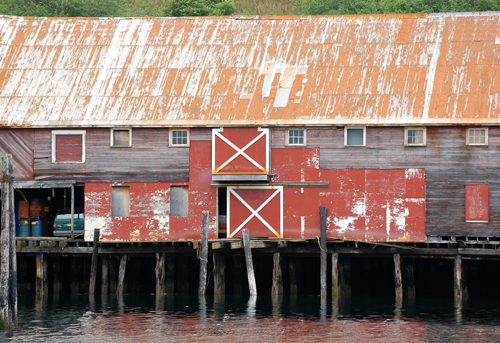 From Dora Harbor, on the tempestuous Pacific side of Unimak Island, we made stops in the settlements of King Cove and Sandpoint. It was tempting to stay in Sandpoint for their 4th of July celebration but with a good weather window we opted instead to head to The Kitchen, an anchorage on Nagai Island that Mark had spent considerable time in 1982 while doing a fisheries research project. The anchorage is behind a shingle spit, requiring careful navigation upon entry, and well protected from all winds except the occasional katabatic winds off the mountains. A series of westerly winds were passing through and after a pleasant week in the very sheltered Kitchen, kayaking, rowing or hiking on the spit, we were able to proceed to the Outer Shumigans.
Our intended first anchorage was to be Simeonof Harbor on the island of the same name, but once we arrived, it was apparent that it was too shallow for
Tamara
and the winds were not favorable. There was still plenty of daylight, so we passed through Twelve Fathom Strait to Little Koniuji Island, an anchored in Sandy Harbor, a fine anchorage with a white sand beach, a rarity in Alaska. These islands are predominantly granitic rocks, and when broken down by millennia of weathering form great sand beaches. In some areas, enormous dunes with lush tall grass atop holding the whole mass together make wonderful hiking ashore, though pushing through the grass requires some effort.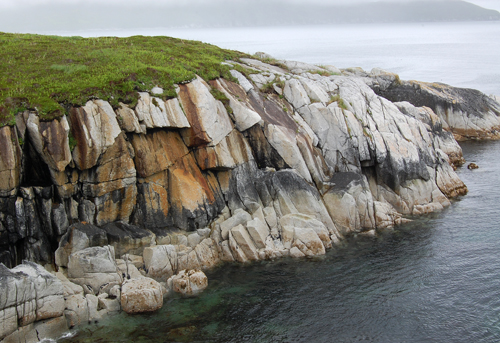 Nancy spent time kayaking to the beautiful sandy beach at the head of the bay and exploring the rock formations.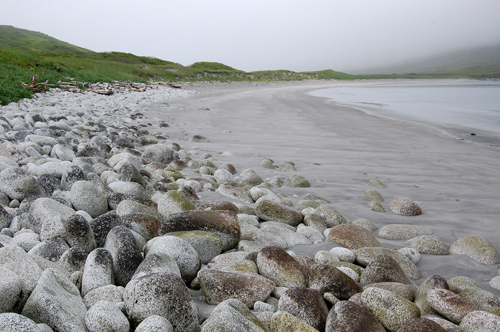 After a couple of days we made for the landlocked Flying Eagle Harbor on Big Koniuji Island. Another sand beach, excellent shelter, and fine kayaking. We were still close enough to Sandpoint to receive their Public Radio station, with great jazz and 70's music programs. Sandpoint, Dillingham (in Bristol Bay) and Homer all have good radio stations available through AM radio, and are also receivable over our HF-SSB radio. An HF-SSB radio is becoming ancient technology and fewer boats are bothering to have one installed. But we have found them a source of great entertainment on many longer crossings, an example being listening to AFN (Armed Forces Network) while crossing to Hawaii and getting the 2008 election results in real time. In addition, there value for emergency communications remains undiminished.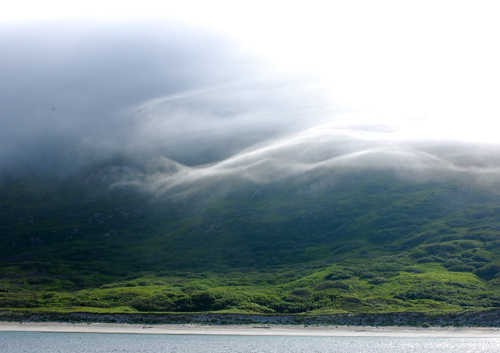 The weather seemed to be improving and as we left the Outer Shumigans we had a rare clear view of the volcanic peaks of the Alaska Peninsula. There had been lots of discussion as to our next destination but it's usually the wind direction that dictates the final decision. In past trips along the Peninsula we had used Port Wrangell, a landlocked harbor first surveyed by Russian Lt. Vasilev in 1832, and named for the Russian Governor of the time. So on this passage we decided to try something new, and continued a few mile east to the bay of Agrapina.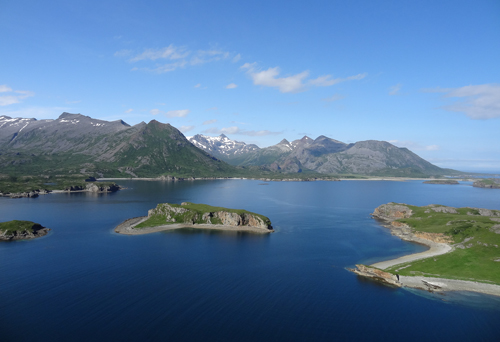 On each voyage there is one stop that stands out, and Agrapina was to be this summer's highlight. The first morning we woke up to beautiful blue skies and warm weather. The dinghy was launched and we hit the beach, shotgun in hand, to explore. The Alaska Peninsula is known for it's large population of enormous brown bears and there were signs of their presence everywhere. At one point Mark had stopped on a narrow ridge while Nancy continued up the cliff trying to get a better view of the area. Suddenly Mark called out "bear"!!! Actually there were two bears - the sound of Mark's voice scarred off one , and the other continued his foraging for food. We were not in any immediate danger, but their size, and the speed with which they can move puts one on immediate alert, especially since we were not together.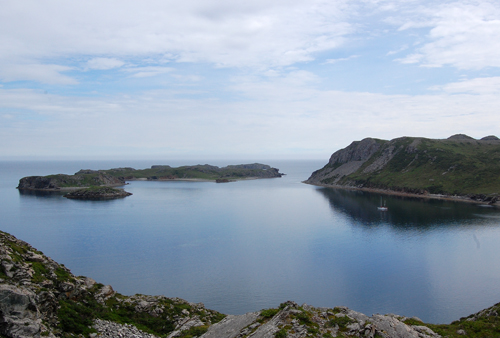 The next morning was another beautiful day and as Nancy was enjoying the scenery she noticed that there was another sailboat anchored nearby. We hopped into the dinghy to introduce ourselves and learn where they had been and where they were headed. Burt and Christine were aboard their Canadian boat,
Seaburban
, and they were headed East after cruising as far as False Pass. Their arrival was a real bonus for Nancy, as she now had hiking partners - the only requirement was that Burt had to carry, and use if necessary, the shotgun. The Canadians hadn't seen any bears and it was exciting for them when we spotted a mother bear and three cubs, a healthy distance away. Even at a distance one gets a real sense of the size of these bears, the mother bear from the rear looking like a VW.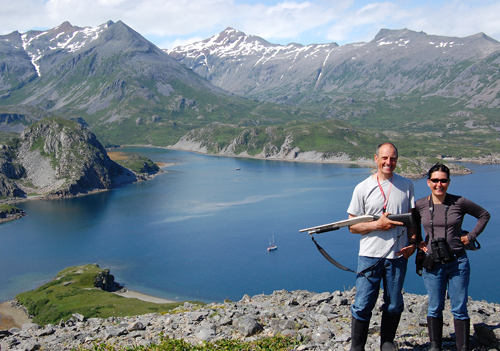 All good things must end and during the fourth night of our stay the winds picked up from the northwest, creating the beginning of willawaws, strong blasts of katabatic winds down from the mountains. Both boat's crews decided the next day to continue on,
Seaburban
to Geographic Harbor, and
Tamara
to Kodiak Island. We were in radio contact, and about 3 hours down the line we got a call from
Seaburban
who was experiencing 30 - 40 knot winds out of Wide Bay. Mark had warned them about the bad williwaws the Peninsula is famous for in northwest winds, and with north west winds forecast for the next couple of days they decided to change course and also head for Kodiak Island.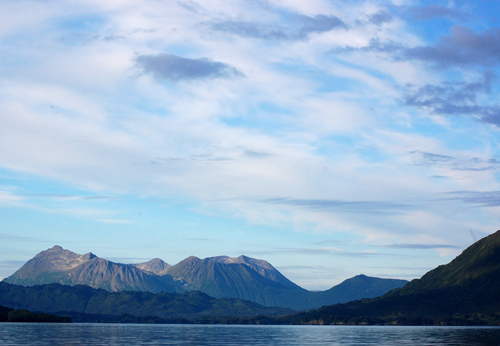 After a night of strong following winds, we made our way to the Head of Larson Bay, with its picturesque old salmon cannery. We try to keep our stays in Kodiak City as short as possible, due to the harbor fees. So once again we moved to one of our favorite anchorages on Long Island, a few miles from town to await favorable conditions to proceed. Previous posts have shown the WWII gun emplacements and other relics scattered about the island. While awaiting weather to cross the Gulf of Alaska, we took the opportunity to visit Kitoi Bay on Afognak Island, then re-visit Seal Bay on the north side of the island. This would shorten our run across the Gulf back to Prince William Sound.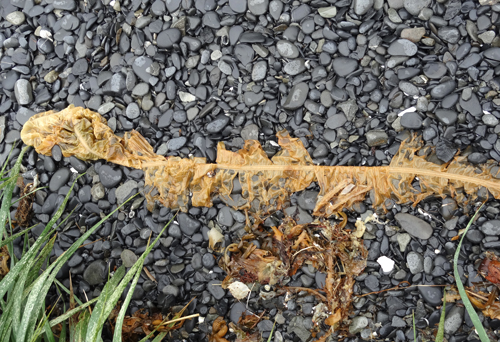 As we approached Cape Clear and the entrance to Prince William Sound, Nancy spotted a catamaran ahead of us -
Rum Doxy
- Annette and Mike Reed, whom we had met while in Kodiak Harbor. After five years in SE Asia, they were headed back to their home in Santa Barbara. On their passage from Japan to Puget Sound, the Pacific High had forced them further north than planned and they found themselves in Kodiak. Not expecting to be in Alaska, their wardrobe consisted of mostly warm weather clothing,. They enjoyed a week of warm sunny weather upon arrival but wisely spent time shopping for clothing more appropriate for wet and cold weather. The Reeds had hoped to visit Glacier Bay National Park in Southeast Alaska, to view glaciers, but when they couldn't get a permit, Mark convinced them to give Prince William Sound a look. Prince William Sound has more spectacular glaciers accessible from the sea then does the park, and he assured them that the Sound would offer them a spectacular cruise.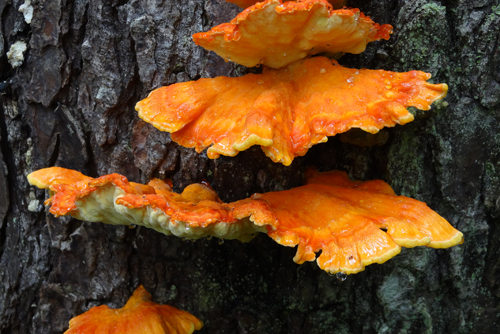 Prince William Sound had experienced an exceptionally beautiful summer, but with the beginning of August the weather had taken a turn for the worse. The next twoweeks were more rain than sun. Even with a rainy forecast though, there were many days with a few hours of no rain, allowing for exploring the anchorages by kayak or dinghy. We examined a number of new anchorages, as well as revisited some of our favorite tried and true anchorages.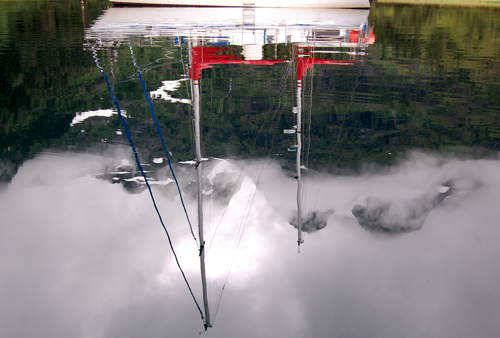 By late August we were back in our slip in Cordova, a little earlier than most seasons. Nancy left on August 26th to hike her next section of the Pacific Crest Trail. This effort would take her 185 miles from Ashland to Willamette Bay in southern Oregon. You can view her current hiking experience by clicking on the link on the right.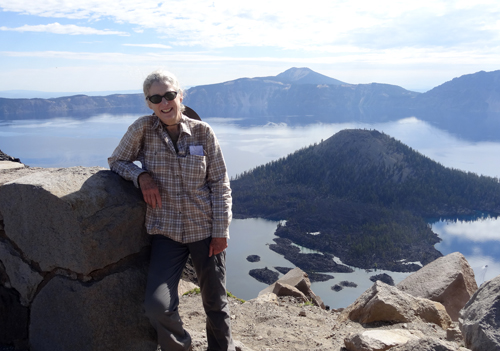 Labels: Agripina, Alaska Peninsula, Koniuji Islands