About The s/v Tamara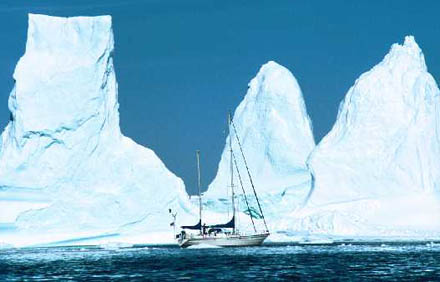 Many of you have asked for technical details on Tamara, particularly those of you who are Boat People, both yachties and fishermen. So here go more details than you probably really cared to have: Tamara was built in Sweden in 1989 of steel. The design is a Langedrag 441, by Rolf Modigh. She strongly resembles a Halberg Rassy 46, but of steel. A center cockpit, double headsail ketch, her length is 43.87 feet, beam 12.8 feet, draft 6.2 feet, waterline length 36.75 feet. She displaces 15 tons. Main engine is a 90hp. Volvo TMD-30A diesel, generator a 6Kw Mase/Rugerini. She tanks 250 gallons fuel, for a range under power of about 1,100 nautical miles, and 200 gallons water. This tankage gives her very a very extended range. Her underbody is very contemporary--shallow forefoot, fin keel, skag hung rudder, large four bladed wheel. She carries both headsails on Selden Furlex roller furling gear, but both main and mizzen sails reef conventionally. She carries four anchors, all chain rode, an electric windlass, and several hundred feet of heavy nylon line for mooring ashore, as well as supplemental anchor rode. Given Mark's long Alaska fisherman experience, and preoccupation with things mechanical, Tamara has a complete workshop in what was originally the port side stateroom, an extensive spare parts inventory, about half a ton of hand and power tools, and various goops and compounds intended to repair most anything. Materials and hardware of every description complete the engineering department's inventory.
Tamara is heavily insulated with sprayed in place foam, and well heated by a Sig-Mar diesel fueled stove, and hot water "bus heater" that scavenges heat from the engine when motoring. Her welded aluminum dodger provides an enclosed helm station, and is heated from below.
Tamara is equipped with an electronics package more in keeping with the workboats of Mark's experience. She carries two hardwired GPS receivers, as well as a hand held unit for back up, dinghy and life raft use. Her communications equipment includes an HF Single Side Band transceiver, two hardwired VHF radios; two hand held VHF radios, and a 2 Meter VHF radio capable of aircraft frequencies. Entertainment and information radios include two AM/FM receivers, and an all-band short wave receiver. Dual station autopilot controls, Radar, two fathometers, wind instruments, and a computer based raster and vector chart plotting system complete her navigation equipment.