Winter 2013
After many years of cruising, often in locations well off the usual course of most, we have been privileged to have achieved some recognition among the sailing community. As we noted in these pages about a year ago, we were honored to be awarded the Charles H. Villas Literary Prize by the Cruising Club of America at it's annual award dinner at the New York Yacht Club in New York City.
An outcome of last years Charles H. Vilas Prize was that some of Nancy's photographs were noticed by the Mystic Seaport Museum, perhaps the foremost maritime museum in the country. Permission was requested my Mystic to use one of Nancy's photographs, blown up to enormous scale, as part of the introductory panel to an exhibit entitled "Adventurous Use of the Sea" in the Olin J. Stevens collection. In addition we have been asked to present our slide lecture at Mystic next fall.
Perhaps because success breeds success, or more likely once noticed one garners further scrutiny, at this year's New York meeting Mark was awarded the Royal Cruising Club Trophy, endowed by the famous British institution of that name. Presented on behalf of the RCC by the CCA, the award was made in recognition of Mark's late winter solo Alaskan cruise and ski adventure. See "Winter Cruise in Prince William Sound", blog post dated June 5, 2012.
Winter cruising in Prince William Sound is just not normal!! So to do so alone, during a winter that set records for the unusual amount of snowfall, in an area known throughout the world for its generally heavy snow cover, gained some notoriety. We will not include a photograph of the award presentation here, as it looks exactly the same as that from last year - we are both wearing the same dinner wear, the room is the same fantastic banquet hall at the NYYC, and Nancy's hair is sticking out in its usually unruly fashion.
Intending to make another late winter cruise, as well as to have something to occupy himself while Nancy embarked on another portion of her hike, Mark left for Cordova shortly after we returned from New York City. Though there had not been as much snowfall as last winter, the winter was a late one, with considerable snow and colder temperatures at a later date than usual. So it was another incredible late winter, with a persistent high pressure system yielding clear shies and bright sunshine.
However, Mark's long serious back problems had impeded much of his mobility for the winter. So he elected to remain in Cordova, slowly prepare Tamara for this season's cruise, and walk and do other exercises every day in an effort to regain--or preserve--better mobility.
Since 2000 our vocation has been pursuing adventure. Primarily cruising, but now in addition Nancy's hiking, adventure, or photographing and writing and lecturing about our adventures has been our occupation. We will continue to do so as long as, and to the extent we're able. Mark may not be able to hike like Nancy, but the boat remains his magic carpet to adventure. He is still plenty mobile for that.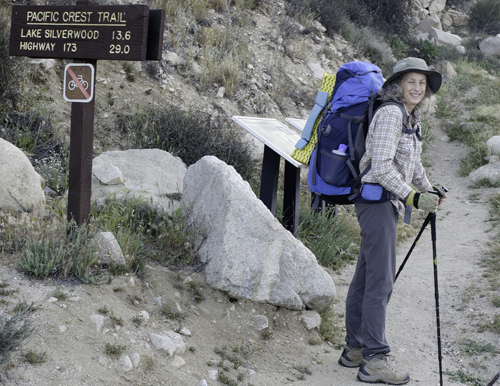 Nancy continued her pursuit of the Pacific Crest Trail in April, hiking from Cajon Pass to Mt. San Jacinto Mtns, 163 miles. Her main goal was to finish the section of trail that was blocked by snow last year along Fuller Ridge, and have the first 342 miles of trail complete. All of her section hikes can now be read at
Nancy's PCT Journey
.
As Nancy's hike concluded plenty early, and Mark was in Cordova throughout the spring, we've been able to prepare Tamara for an early departure this season. We remain in Cordova, however, awaiting the arrival of two of our headsails that we'd taken home for repairs. With luck we will soon be able to bend on those sails, load the inflatable dinghy aboard, and begin to cruise to the west. We both very much enjoy the Alaska Peninsula, the Shumigin Islands and the Aleutians.
This region is very seldom cruised by yachts, although more and more make there way eastward along this route each year as they sail to North America from Japan. In the last few seasons we have been privileged to be visited by crews that we met in South America and Antarctica that have sailed this route and been able to spend a little time in Alaska.
We have no specific goal as this region can prove very challenging cruising. We will go as far west as weather, time and our inclination permits. In recent years we've been along this route and in to the Bering Sea, but we enjoy the challenges presented by these grounds, and the changes in scenery, topography and meteorology that emerge with each mile one sails west. The Shumagins and Aleutians are generally not forested, but are covered with a verdant heather that affords easy walking, are much drier than Prince William Sound, and offer spectacular seascapes. They are, for the most part, very remote, but the welcome granted by fishermen and villagers of the are is always very warm.
We will have updates as the summer progresses.